Financial Assistance to Teams
Fikret Yüksel Foundation Grants
Over the years we have provided financial assistance (mostly towards event registration) to the Teams in Turkey in order to help them be able to compete. Starting all the way back in 2008 when we provided the funds to start team 2905, up into current times, which in the most recent season, we provided direct financial assistance to 54 teams. Our grant has changed each year, as we try to tailor it to the needs we see present each year. (Registration everywhere in the world normally costs $5000 for veteran and $6000 for new teams – this money all goes to FIRST®, none of it goes to the Foundation).
2009-2015
In these years the Foundation provided grants and assistance to teams by request, in addition to its consistent funding of team 2905 (As that is the team from Darüşşafaka, the school Fikret Yüksel graduated from, and a school he very much wanted to give back to). There was no formal process in these years.
2016 FIRST Robotics Competition Season
In 2016, we provided grants to 7 teams, based off their performance at the 2015 First Turkish Robotics Off-Season. This was our first time providing grants based on a set of criteria. The plan for this period was to award the teams who earned the Chairman's, Engineering Inspiration, and Rookie All Star Awards, and the three teams on the winning alliance (all of which at an official regional would earn you a spot at World Championship) with free registration to the 2016 competition season. This would normally be 6 teams, we added a 7th team for their extraordinary display of gracious professionalism throughout the event.
2017 FIRST Robotics Competition Season
After watching how the process passed in 2015-2016, the Foundation was not particularly excited about how the attachment of monetary benefits to the event awards affected the competition, so in this period, the grants were separated from the Off-Season. The Foundation instead asked the teams to make an application with details about their team, and a business plan for how they planned to run a sustainable team, and awarded grants to teams based on the strength of their applications.
2018 FIRST Robotics Competition Season
Having made significant progress gaining new teams in İstanbul, but less so outside of major cities, the Foundation decided to focus its grant on starting teams from rural areas in Turkey. We awarded 6 teams from lower income, less-urban provinces a two-year grant, providing full registration costs in the first year, and half the second year. These teams went through a similar application process to the previous year. At the time, FIRST Rookie Grant and Hardship Grants (Now named New Team Grant and Registration Gap Grant) required that there be an event in the same country as the team. That meant as Turkey's first official regional began in 2018, that the 2018 season was the first year those grants became available to Turkish teams. The availability of FIRST Rookie Grants for new teams in Turkey also allowed the Foundation to be comfortable directing its funds to a more narrow-focused goal.
2019 FIRST Robotics Competition Season
It was around this time that there were significant currency fluctuations. As the registration for the competition is done in U.S. Dollars, this meant that registration nearly doubled in one year for Turkish teams. The Foundation decided to attempt to reduce the pressure this put on teams by offering grants to all Turkish teams who would only be attending one regional event that year. The grants were partial grants, depending on if the team was a rookie, veteran, or a rookie who had received the FIRST Rookie Grant the previous year. This was done to try to keep the registration at about the same cost (in Turkish Lira) as the previous year for Turkish teams. Teams had again roughly the same application process – a business plan and some basic team Information. The business plan is required from teams because we feel this helps the teams prepare themselves, and we feel it will help them when they go to companies and other entities to fundraise for the parts of their budget not filled by our grants.
2020 FIRST Robotics Competition Season
In this period, the grant had a similar goal to the previous season, except with the FIRST New Team Grant being available, and abundant for Turkish teams the previous year, we limited our grant to only Veteran teams, with the goal being that any team in Turkey who applied for and received the grants from us or FIRST would only have to pay $2000 for registration in that year. Note – in 2020 there were no FIRST Championships due to the global pandemic.
2021 FIRST Robotics Competition Season
This season is very different from past seasons, with the Coronavirus Pandemic ongoing major changes were made to the competition for this season. Events were moved to be online and additional challenges have been added that are compatible with competing from home. Also in response to these major changes the registration was lowered to $2000 for veteran teams, and $3000 for new teams. Due to the difficulties of managing the online season, and different states of permissiveness from host organizations, this is the first time there has been a decrease in the overall number of teams in Turkey. Our goal in this season was to focus on existing teams, and provide for every returning team to be able to participate for only $500. The Foundation also continued to work with other sponsors to support all Turkish teams.
Grants from Sponsors/Supporters/FIRST
Starting in 2018, with the beginning of official competitions in Turkey, FIRST Team grants became available to Turkish teams. This allowed teams here to start applying for, and earning significant grant money from FIRST itself, reducing the burden of registration to our teams significantly. The Foundation acts as a messenger in this process often, frequently reminding teams to apply for these grants, and helping provide suggestions for them on how to do well in the grant process.
There have also been many sponsors and supporters who have provided grants to teams through the Foundation, or upon the advice of the Foundation, Companies such as Dassault Systemes/Solidworks and 3M have provided significant assistance to teams in Turkey.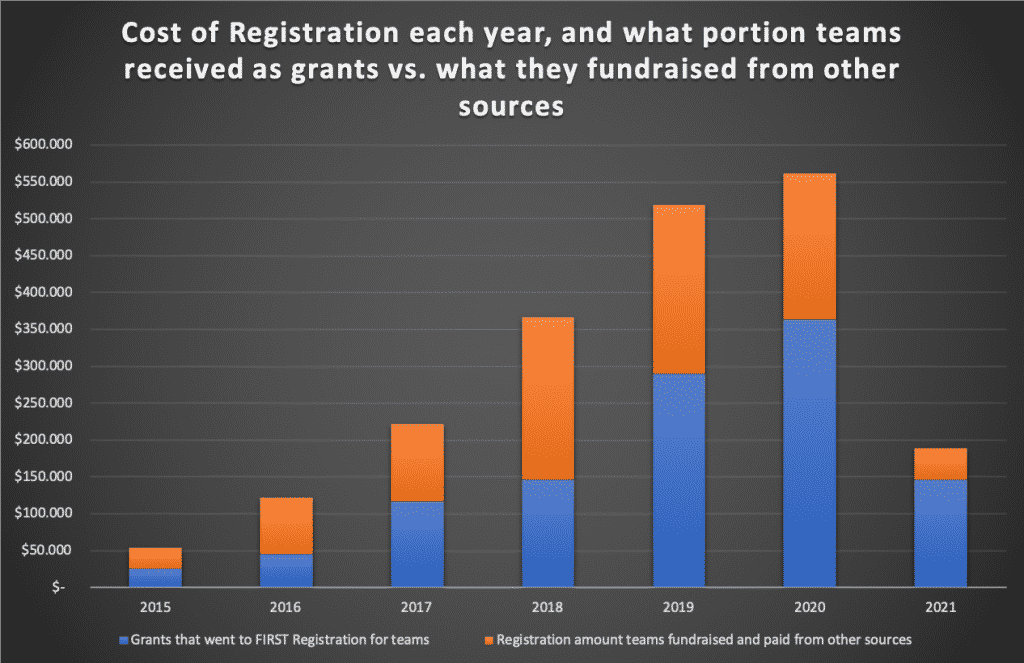 FIRST Lego® League
Each year since 2018, the Foundation supported 10 FIRST Lego® League teams from rural and lower income provinces each year in Turkey.